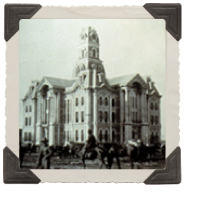 Martin, Showers, Smith & McDonald, LLP. is the oldest law firm in Hill County. We are a full service firm capable of meeting a broad variety of legal needs for both individuals and business entities. Although our office is located on the historic courthouse square in Hillsboro, we represent clients and handle litigation and other business matters throughout the State of Texas. Hillsboro is centrally located in North Texas on Interstate Highway 35 less than one hour south of both Dallas and Fort Worth and thirty minutes north of Waco.
Our firm has a broad practice in a number of areas of the law, including litigation, both commercial and personal injury, banking, contracts and other commercial transactions, corporations and partnerships, real estate, real estate litigation, eminent domain/condemnation, oil and gas, estate planning and probate proceedings, estate litigation, mediation, municipal law, school law, criminal law and creditor bankruptcy, family law, including marriage dissolution, adoption, premarital and marital agreements. We primarily represent plaintiffs in litigation; however we do practice on both sides of the docket. This experience of working on both sides of the docket is beneficial when we defend our bank, corporate and medical clients. We serve as local counsel with many firms in the preparation and trial of litigation in Hill County courts.
We provide excellent legal services and support to our clients. In addition to our individual clients, the firm represents numerous organizations, governmental and business entities on a regular basis. Included are corporations, partnerships, banks, physicians, school districts, municipalities, and water cooperatives. We are proud of our history and the character and integrity of our attorneys and support staff. Our attorneys have a history of active involvement in community and civic service, not only in Hill County but throughout the State of Texas.
The firm has history of over one hundred years, begun by Judge Will Morrow and Will Martin, a former State Senator, carried forward by Martin's two sons, William B. Martin and Crawford C. Martin, former Senator, Secretary of State and Attorney General of Texas. The Martins were joined by James A. Showers in 1966 and then later by Stephen N. Smith, Michael W. McDonald and Stephanie Johnson. Steve Smith retired from the practice of law on July 1 2017, and the firm currently consists of Jim Showers, Mike McDonald and Stephanie Johnson, along with a very capable and experienced support staff that has been with the firm for many years.
The attorneys and staff at Martin, Showers, Smith & McDonald believe in our legal system and the opportunity for justice that the system affords each person. We are dedicated to these beliefs and strive to achieve equal justice under law (the words carved on the façade of the U.S. Supreme Court building pictured first above) for each of our clients. Individual attention, excellence and character of your legal counsel make the difference in today's complex environment. The firm will provide the capabilities and dedication, along with current technology, that make the difference. We welcome the opportunity to discuss your legal needs and invite you to either call our firm or submit a no obligation inquiry by mail or email. One of our attorneys will respond as quickly as possible.
Our attorneys abide by the Texas Disciplinary Rules of Professional Conduct and are also committed to the Texas Lawyer's Creed promulgated by the Texas Supreme Court.